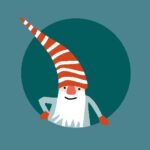 The Mhist team is waiting for families to immerse themselves in the holiday atmosphere on December 4, from 9 am to 4 pm. In small groups, children are invited to discover the exhibition Christmas Stories, do a Search and Find, make a special DIY and even take pictures with wacky accessories.
RESERVATIONS REQUIRED. Limited places for each time slot.
Four time slots available: 9:00 a.m. to 10:30 a.m., 10:45 a.m. to 12:15 p.m., 1:00 p.m. to 2:30 p.m. and 2:45 p.m. to 4:00 p.m.
The Mhist team would like to thank Desjardins, partner of the exhibition and Children's Day.

To book for one of the activities, call 819-821-5406 or write to info@histoiresherbrooke.org.