The new permanent exhibition features a series of activities designed to depict the city's evolution across the decades by portraying the lives of Sherbrooke residents from yesteryear to today. For example, students will get the opportunity to play the role of a telephone operator who was a bit too curious, or embody the life of an Abenaki legend storyteller.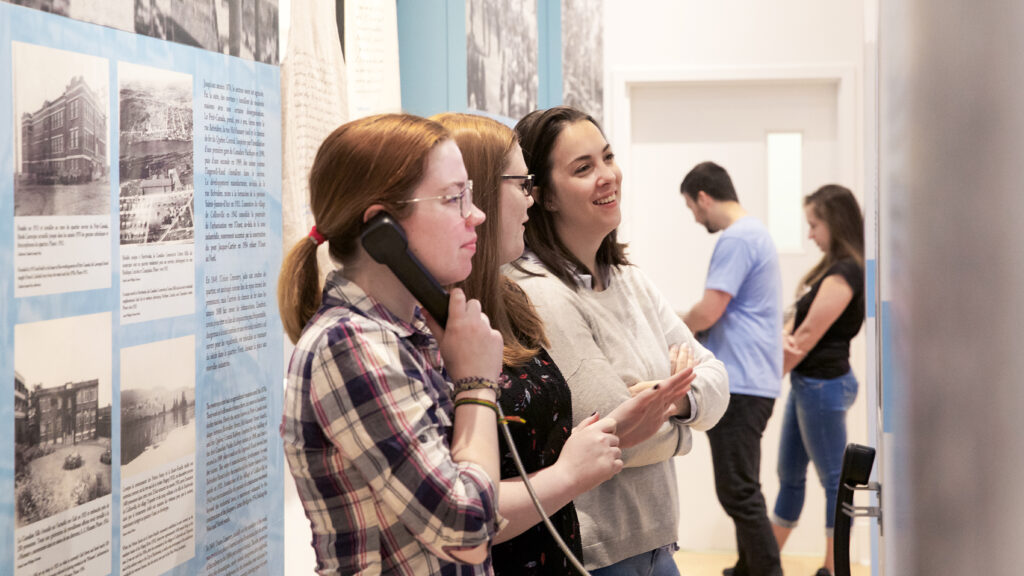 Duration: 75 to 90 minutes
Cost: $5,50 per student (a minimum of $82,50 per group will be charged).
Availability: Year-round
Departure: Musée d'histoire de Sherbrooke
Theme: Society in Canada and Québec (and Sherbrooke) between 1820 and 1930; comparison between the past and present; local history
Distinctive feature: Note that the specific pedagogical program for the 2019-2020 school year is under development
Comment réserver?
Pour toutes les activités offertes par le Musée d'histoire de Sherbrooke, il est préférable de réserver en début d'année scolaire, ou au moins trois semaines avant la date désirée, pour que nous puissions nous assurer de la disponibilité de nos animateurs. Pour réserver, vous pouvez contacter la responsable des activités éducatives, Marie-Eve Gingras, par téléphone ou par courriel, ou encore remplir le formulaire de demande de réservation accessible en ligne. Peu importe la méthode choisie, vous pourrez communiquer de vive voix ou par courriel avec la personne responsable. De cette manière, nous nous assurons que l'activité ou les activités sélectionnées demeurent le meilleur choix pour votre groupe.
À la suite de votre réservation, une feuille de confirmation vous sera transmise par courriel pour confirmer votre réservation et vous indiquer les détails de l'activité.
Avant de faire une demande de réservation, assurez-vous de pouvoir nous fournir un maximum de renseignements parmi les suivants.
"*" indicates required fields