150 years of urban history: long live the holidays!
11 July 2020
The concept of holidays—especially for the working class—is recent, being only a few decades old. However, as early as the 19th century, the arrival of warmer weather became the right time for the wealthier classes to leave the polluted and stiflingly hot towns and cities behind and stake out their own peaceful haven in the countryside, preferably next to a body of water.
During the 1880s, Petit Lac Magog in the Sherbrooke region became a prime location for the Francophone bourgeoisie to build plush cottages. The sector was increasingly developed as Sherbrooke families began to spend several weeks every summer enjoying the waters of the Magog River. However, not everyone has either the desire or the means to own a waterside property and so preferred staying in a hotel.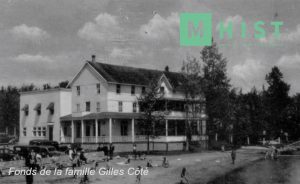 Lake Park Hotel, which first opened in 1893 as Hôtel Gosselin, was the first hotel to be built on the banks of Petit Lac Magog. The hotel offered holidaymakers the opportunity to, among other things, relax on the beach, have fun on a water slide, perfect their tennis skills, and then warm up in front of an open fire at the end of the day. Indeed, for several decades, holiday resorts were a determining economic driver in the Petit-Lac-Magog municipality, which took the name of Deauville in 1945.
In addition to Lake Park Hotel (1912-1970), Manoir du Lac (1936-1964) and Auberge des Pins (1947-1981)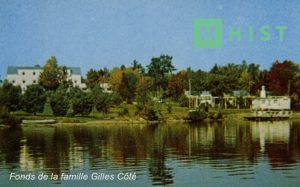 catered to an increasingly varied clientele as workers were granted paid holidays and as transportation networks (train tracks, improved roads for cars and buses) were developed. Auberge des Pins, built in 1947, highlighted its rustic charm and picturesque surroundings, which charmed both holidaymakers and tourists.
However, you didn't even have to embark on a possibly hazardous car journey or take the train to go "on holiday"! During the early 1920s, a holiday destination was built close to urban Sherbrooke on the banks of Magog River. Located close to both Jacques-Cartier beach and Saint-Esprit beach (modern-day Blanchard beach), Armitage's Cabins was very popular during the 1940s and 1950s. The site boasted 30 or so little cottages, a restaurant, and a swimming pool where holidaymakers could cool off. It should be noted that, at the time, the Chemins de Montréal sector (Rue King Ouest) and the Orford sector (Boulevard Jacques-Cartier) were still wooded and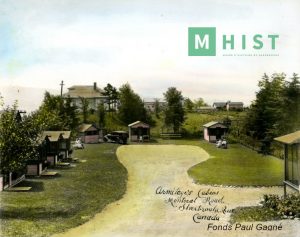 sparsely inhabited. However, slowly but surely, urban expansion brought about changes. During the 1960s, the small cottages were replaced by a hotel called Armitage Motel, which was then Frenchified and renamed Motel Ermitage in 1968. The site was sold in 2011 and the motel was replaced by the Cité du Parc project.