Decades of The Record newspaper archives saved
10 November 2020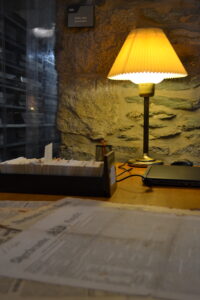 The Mhist-Musée d'histoire de Sherbrooke would like to thank several partners without whom 128 binders of Sherbrooke Daily Record/The Record archives would have been lost.
In March 2019, during renovations to the heritage building that houses the Mhist, an air conditioner pipe burst in the newspaper archives storeroom in the middle of the night. The museum team and a group of volunteers quickly intervened to get these archives to safety.
"We had to freeze the documents, store them, send them for freeze-drying, and then preserve them in acid-free boxes. Unfortunately, Mhist's insurance did not cover all the costs incurred following this incident. We turned to the community to help make up the shortfall and save the archives of the oldest newspaper still operating in the region," said David Lacoste, Mhist's Executive Director.
The Mhist would like to sincerely thank Ms. Rachel Hunting, Director of the Townshippers' Association, who was very active in mobilizing various actors in order to secure funding. As a result, Global Excel Management, the Townshippers' Foundation, and the Secrétariat aux relations avec les Québécois d'expression anglaise [Secretariat for relations with English-speaking Quebecers] contributed to the effort. François Bonnardel, Minister of Transport and Minister Responsible for the Estrie Region, local MNAs Christine Labrie and Geneviève Hébert, and Montreal MNA Jennifer Maccarone, Gregory Kelley and David Birnbaum also drew on their respective budgets. The Ville de Sherbrooke managed to secure the required funding in the end.
"Thanks to the generosity of these donors, several binders representing decades of The Record newspaper will once again be made available to researchers. Some of these newspapers are in fact the only copies still available. The incident is a reminder of the fragility of archives. To use the Record's motto, the newspaper has been the voice of the Eastern Townships since 1897, and its archives are therefore of great importance to the English-speaking community and to our region," concluded Mr. Lacoste.